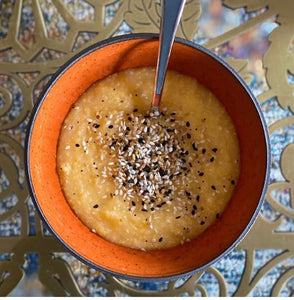 7 Ways to Wake Up Your Breakfast with Everything But The Carbs
When it comes to seasonings, are you still adding too much salt? You can add flavor in a low sodium way with natural spice that takes your food to the next level. In the morning, you can't exactly get into beast-mode without a good breakfast that wakes you up. But a dull and lifeless breakfast won't do either.
Instead, try adding Everything But The Carbs, a healthy spice that gives you full-on flavor like everyone's favorite bagel only without all that dough. Crunchy garlic and onion, white and black sesame seeds plus poppy seeds and a hint of sea salt create epic flavor in this all natural low sodium seasoning. Here are 7 ways to use it to liven up your morning!
Make "eggs"-traordinary eggs
Get your morning protein in without adding too much salt. Whether you fry, scramble, poach, hard-boil, go over-easy, or make an omelet, Everything But The Carbs gives your eggs an extraordinary flavor.
Butter it up
If you're not completely carb-free, you might want to explore ways to enjoy your healthier bread options. Even gluten-free breads and bagels can be buttered up and enjoyed with this Everything seasoning, which also happens to be gluten-free itself!
Give potatoes what they're missing
From hashed browns to home fries, potatoes will have mega-flavor with Everything But The Carbs with low sodium for a healthy spice. The garlic and onion along with the sea salt and various seeds give it texture and crunch too which will have you enjoying every bite.  
Cottage cheese gets a makeover
Getting tired of grinding pepper onto your cottage cheese? With just a few shakes of this all natural spice, you'll have more savory flavors that turn this healthy breakfast staple into one you'll actually crave.
Elevate avocado toast
Hey, we love avocados! But they could use a little natural seasoning to bring out their flavor. Instead of shaking tons of salt on top, all you need is Everything But The Carbs to add flavor and texture to your avocado toast. Add an egg on top and you'll be in healthy breakfast heaven!
Have a brunch breakthrough
On the weekend, start your morning with a Bloody Mary. Instead of salting the glass or sprinkling the usual seasonings on top, use Everything But The Carbs to make your boozy brunch even better!
Use it all day long
Everything But The Carbs is so tasty that you'll likely want to eat it throughout the day too. We can't blame you, for it's the best natural seasoning to enjoy without gluten, MSG, or any artificial junk. Feel free to shake it onto salads, soups, cauliflower pizzas, popcorn, roasted vegetables, or even as a rub for your roasted meats or chicken.
Unleash the Beast on your meals to get amazing flavor without what you don't need so you can stick to your healthy plan, inside and out.
---