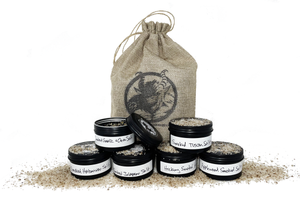 Announcing Our Newest Product Just in Time for Father's Day
Father's Day is Sunday the 18th and I'm sure most of you have already shopped for your Fathers, Fathers-in-Law, Grandfathers, and Husbands, but for those of you that didn't.......
You might want to get him a set of our new Gourmet Smoked Sea Salts!
We have been sleeping on this idea for a while now.....and now it is a reality!
We currently have made 6 different salt flavors
Just like all of Spice Beast's products, these are 100% natural.
We use all natural hardwoods in our offset smoker to give our salts a distinct and bold flavor that only REAL WOOD can give you. Our salt is the same natural sea salt that we use in our seasoning blends as well as the spices and herbs we use to flavor them. For the spicy ones, we fly in chili peppers from New Mexico while we are waiting to harvest the ones we are growing locally with our local farmers.
Now let's introduce you to our salt flavors!
Applewood

Hickory
 Habanero
Jalapeno
Garlic & Onion
Tuscan
Right now these are being offered as a gift set of six, packaged in a burlap bag. This is the perfect gift for that Dad that spends his whole summer out by the grill!
You can get your hand smoked gourmet sea salt gift set by clicking the link below.
If you are looking for other ideas, check out last years blog where I share some cool companies I've gotten to know over the years.
https://thespicebeast.com/blogs/news/the-beasts-fathers-day-ideas-for-2022
---