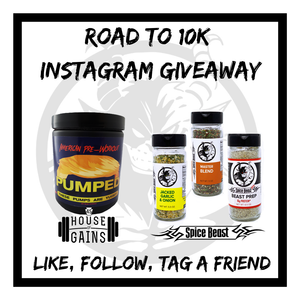 House of Gains and Spice Beast Giveaway
We have teamed up with House of Gains to put together this GIVEAWAY collaboration.

I met these guys while I was set up in Allentown PA at an NPC Show. Matt is a hard working entrepreneur and is still putting the final touches on his brick and mortar store.

The winner will receive a full size tub of House of Gains "Pumped" American Pre-Workout and seasonings ..... Three full size jars of any blend you desire from The Spice Beast

---