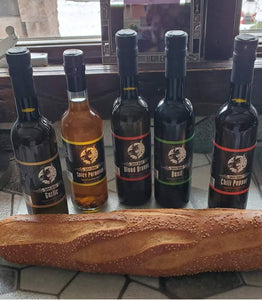 New addition to our Middletown Store
This past weekend we released our new line of Infused Extra Virgin Olive Oils. We are starting slow and will only be offering them at our retail location in Middletown NY, and various Farmers Markets across NY & NJ.
If you haven't been to our store, please come on out. The Emporium Square is an amazing place with over 50 different small businesses right at your fingertips.
We are starting off with five different flavor oils:
Basil
Blood Orange
Chili Pepper
Garlic
Spicy Parmesan
Where you can currently find our Infused Olive Oils:
If you can't make it to one of our markets.....Don't worry, we can hook you up!!!
Just Direct Message us on Facebook or Instagram and we will figure out a way to get it to you!!!!
---