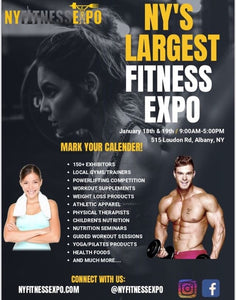 NY Fitness Expo 2020
We are excited to announce that Spice Beast will be participating in the first annual New York Fitness Expo
Billed as the Largest Fitness Expo in New York, the NY Fitness Expo is coming to town in January 2020.
Explore & Shop over 150 exhibits with the latest in fitness, nutrition, heath services, children's nutrition , yoga/meditation, running, local gyms and personal training studios, CrossFit, supplements, weight loss, strength training and much more!

Get educated by some of the top health and nutrition experts in the Capital Region through seminars , stage demonstrations and guided workout sessions all weekend long!

Plenty of fun & free sampling to go along with the education and training.
Come wearing workout apparel to join one of the guided workout sessions!
Event Features and Highlights: ​* Guided Workout Sessions * Giveaways, Contests & Free Samples * Cooking Demonstrations * Life and Fitness Coach Seminars * Yoga Demonstrations * Crossfit Demonstrations * Weight Lifting Demonstrations for Men and Women * Nutritional Seminars * Supplement Samples * Athletic Wear Fashion Show * Mental Strength Training and Meditation Seminars * Eating Plans & Diet Education * Bodybuilding Experts
Expo Dates: January 18th & 19th
Saturday 9am-5pm & Sunday 9am-4pm
Siena College Marcelle Athletic Complex
515 Loudon Rd
Loudonville NY 12212
---
3 comments