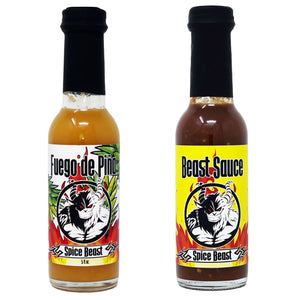 Spice Beast is throwing their hat into the Hot Sauce game....
My daughter and I have always been fans of hot sauces. We are always grabbing different flavors from different local makers. I don't think we have found one we didn't like.
Well, that got us to thinking that we should start making our own.
So that is exactly what we did. I reached out to a friend, a local chef and restaurant owner Franz Brendle. He too has been dreaming about making hot sauce. We knocked our heads together and came up with two flavors to start.
All of our hot sauces are currently being produced in small batches, 60 to 70 jars at a time using fresh locally sourced ingredients. We decided to make the first round of sauces using habanero peppers.
So for our first flavor...... We bring you..... BEAST SAUCE !!!
Beast Sauce is a smoked garlic habanero. This was totally Franz's idea, he obsessed with his custom made smoker that he had made for his restaurant
Pharmacy Kitchen & Bar
. So it was an easy decision for him. This sauce is spicy and smoky and I've been putting it on everything.
Our second hot sauce flavor is..... Fuego de Pina !!!
What is this freakin' obsession with MANGOS?!?!?!?! Mango this and mango that, what about the poor PINEAPPLE? Well we are bringing it back to the party with our pineapple habanero hot sauce... "Pineapple Fire"
This sauce is sweet, tart and SPICY !!!!! This one is my daughter, Erica's favorite!
Like I mentioned earlier, these hot sauces are made is small batches and quantities are limited.....but don't worry....if we run out, we will make more !
---