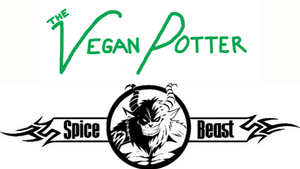 The Vegan and The Beast
So... a Beast walks into a Vegan Festival.....
Sounds like the opening line to a joke right?
It's not.
On September 8th Spice Beast traveled to Albany, NY to set up shop at the 2019 Albany Vegfest. This was certainly foreign territory for us and we were quite nervous. The things you hear on the news and the things you see on the television about Vegan Activists and all that hooplah. Well we felt we were really taking a chance bringing our Meal Prep Spices that have names like "Meat Madness" and "Oceans Seven" to a venue like this.
Well we couldn't have been more wrong. What an amazing experience and education we got. What kind and wonderful people we met....but there was this one person that specifically changed my outlook on this whole "Vegan" thing.
In enters Lyndsay, The Vegan Potter.
No. She isn't selling Hemp. No her pottery isn't made of wheat grass. She is an expert craftswoman in the trade of "Material Science" or "Ceramic Engineering". (I totally googled those terms...look she hand make clay pottery and glazes it...OKAY?) She is also a Vegan, been so for over 20 years, when being a vegan wasn't trendy or the newest political statement.
She makes beautiful things from plates to bowls, and sassy things like mugs and trays with bold statement emblazoned on them.
We chatted for a bit and visited each others tables, and we just vibed.
As we talked I began to learn what veganism is all about. Even though I may never cross over into the world of veganism, I did learn that a Vegan Potter and a Beast who makes spices with names like "Meat Madness" can co-exist and collaborate and make the world a better and tastier place. One sassy bowl of seasoned broccoli at a time.
To learn more about Lyndsay and her amazing pottery click on her logo.
---