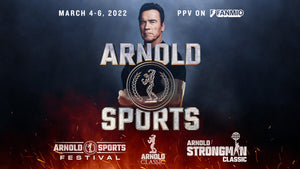 Were Going Back to the Arnold !!!!
We are super excited that things are starting to get back to normal. After a two year "hiatus" due to shutdowns and mandates, the Arnold Sports Festival will be taking place in Columbus Ohio.
If you are already planning on going or think you might want to take the trip. We will be set up at booth number 1154 which is right by the main stage!!
If your into the fitness scene or want to learn more about all the new products being marketed, this is the place to be!!
The 2022 Arnold Expo will feature more than 1,000 booths of the latest in sports equipment, apparel and nutrition and two stages that hosts unique, non-stop competitions and entertainment that combine to make the Arnold Fitness EXPO the heart of the Arnold Sports Festival.
2022 Arnold EXPO Hours - New in 2022!
Friday, March 4: 10 a.m.-7 p.m.
Saturday, March 5: 10 a.m.-7 p.m.
Sunday, March 6: 10 a.m.-4 p.m.
The Arnold Expo is held at the Greater Columbus Convention Center, 400 N. High St., Columbus, Ohio 43215.
The Arnold Expo, in the main hall of the Greater Columbus Convention Center, is the nation's largest health and fitness exposition. It annually showcases leading businesses and organizations featuring the latest trends in the industry.
The Arnold Expo Stage hosts a variety strength competitions and exhibitions over the weekend.
---
1 comment