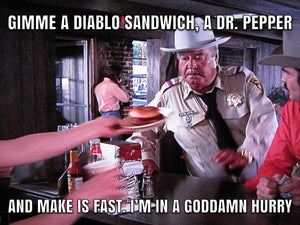 Spice Beast Brings Some Pop Culture To Life.
Growing up in the 70's one of my favorite movies is Smokey and the Bandit. My first car was 1977 Pontiac Trans Am (Well it was a 1977 Firebird Esprit and it was fire engine red) but I felt like Burt Reynolds every time I got behind the wheel.
One of many favorite scenes, and I know you remember it too, was when Snowman asked Bandit to grab a hamburger for Fred when he is dropping off Frog (Sally Field) at the nearest  "Choke and Puke" . (Fred was Snowman's Basset hound co-pilot). While Bandit was waiting for Fred's, food Sgt. Bufford T. Justice storms in and blurts out.... "Give me a Diablo sandwich, a Dr. Pepper and make is fast! I'm in a goddamn hurry!"
Well that brings us to the reason for this blog.
I want to recreate the Diablo Sandwich.
Believe it or not. There is no '"Original Diablo Sandwich" it's been said that Jackie Gleason just made it up!!! So recreating this iconic sandwich is pretty much a crap shoot. It could be anything I want it to be, or anything that I imagine it to be. One this I know it is....it's gonna be SPICY!
Ingredients:
Directions:
Layer the onion in the bottom of the crockpot

Brush the Pork Shoulder with the hot sauce

Rub your Pork Shoulder with the seasonings

Place on top of onions and pour Dr. Pepper over the meat

Cook on low 4-5 hours (increasing timer 30 minutes for each pound if you are multiplying the recipe)

When roast is complete, add remainder of the hot sauce and shred in its own juices.

Toast Hamburger buns and serve the pork on the bun with an ice cold Dr. Pepper. Slather it with BBQ sauce if you wish
---