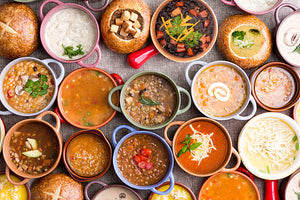 Top 5 Best Soup/Stew Recipes
How do you narrow it down to the best 5 soups/stews when there are THOUSANDS of different recipes!?!?!?!
Well for me it took about 2 years! Soup is my Husband's favorite meal. Anytime of year if you ask him what he wants for dinner his response is always soup. So obviously I no longer ask him what he wants, but on the off chance I want to make him smile a little extra that day I make a pot of soup.
Now when I say it took 2 years to figure out the best soup recipes, it's because I actually am not a fan of soup, so I had to really start playing around to come up with soup recipes that would fit both of our food preferences. Not only do that, but we also work full time so they also have to be time efficient!
So we ended up deciding on these five soup/stews. They are simple enough to be made right before you leave for work in the morning, or made quick when you get home! All of these soups freeze AMAZINGLY so feel free to make a big pot and then freeze for those lazy nights!!
The first one being my personal FAVORITE!! It can be turned into a crock pot meal too, just make sure you brown the meat before putting it into the crock pot, and then add the pearl barley about 45 minutes before you are ready to eat dinner! And BOOM you're done!!
We would also like to add a bonus soup, our Veggie Bean and Barley Soup is 100% vegan and ABSOLUTELY delicious.
Erica Corrado
President
Spice Beast Inc
---